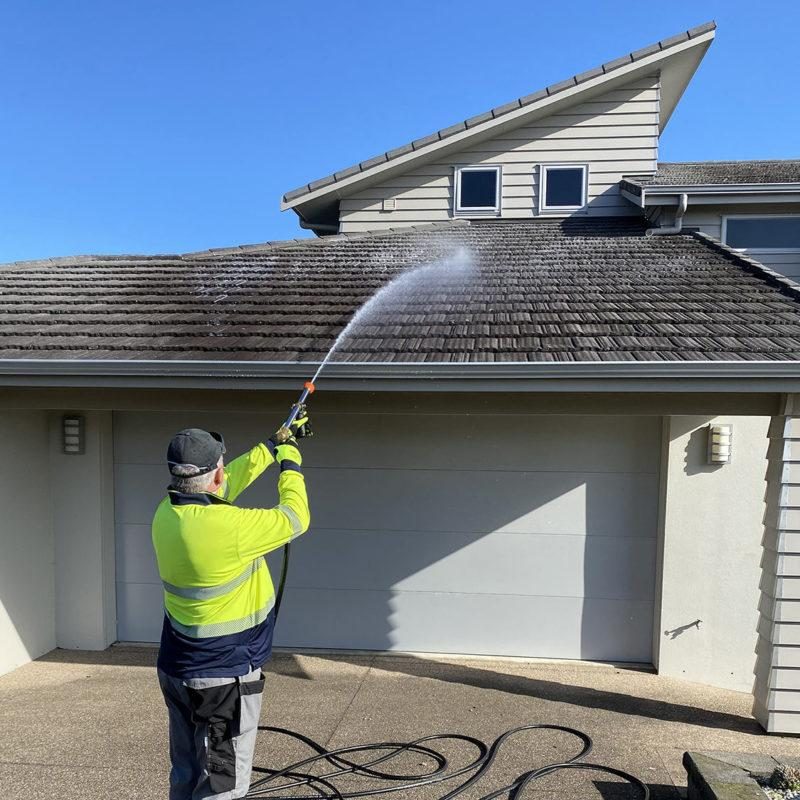 Skyhigh Roof and Gutter Cleaning exclusively use Wet and Forget® products that are made right here in New Zealand when chemical soft washing roofs. ( note: chemical soft washing is a chemical wash NOT a high-pressure wash. It will not remove grime, cobwebs or dust/dirt)
We can effectively spray a wide variety of roofs including Decramastic, Clay tile, Concrete tile, Super 6, Fibrolite, Colour steel, and Zincalume (iron roof) to remove moss, mould, lichen and algae.
​We will use a trailer-mounted pump with a reach out to 9 metres for the larger roofs ( our water ) or a plug-and-play spray on the smaller jobs. ( your water )
​Wet and Forget® advise that water tanks should be disconnected for 3 to 4 weeks or 36ml of rain with a minimum of 6 ml after treatment.  We will work with you to select the right day for the application in advance so we don't get rain within 4 hours of applying the product or too much wind.
Please refer to their web site at https://www.wetandforget.co.nz/collections/outdoor for a list of product FAQS and an informative video on the benefits of treatment.
Skyhigh Roof and Gutter Cleaning exclusively uses Wet and Forget® made right here in New Zealand. We can clean a wide variety of outdoor surfaces for moss, mould, lichen and algae with some outstanding outcomes.
Exterior Home Surfaces: Brick, Covered Porches, Decks (All types including wood, treated lumber, stained, painted, Trex® and other composite decks), Downspouts, Driveways, Eaves, Gutters, Patios (All types), Pavers, Roofs (All types including fibreglass, asphalt, composite, wood shake and tile), Screens, Shingles (All types), Sidewalks, Siding (All types), Steps
Lawn & Garden: Awnings, Diving Boards, Fences (All types), Fountains, Gazebos, Greenhouses, Hammocks, Lanais, Lawn & Patio Furniture (All types), Outdoor Mats/Rugs, Outdoor Pots, Patio Umbrellas, Plastic Playhouses, Play Equipment, Pool Liners, Pool Surrounds, Retaining Walls, Shade Sails, Storage Units
Marina: Aluminium, Boat Bilges, Boats, Boat Carpeting, Boat Seats, Canvas, Fibreglass, Inflatable Boats, Sails, Teak
Camping: Cabins, Outdoor Furniture, Pop-Up Campers, RVs
​Materials: Aluminum, Asphalt, Brick, Cement, Ceramic, Clay, Composite, Concrete, Dryvit/EIFS, Fabric, Fiberglass, Flagstone, Limestone, Marble, Natural, Painted, & Stained Wood, Painted Surfaces, Plastic, PVC, Rubber, Sandstone, Slate, Steel, Stone, Stucco, Teak, Textured Surfaces, Tiles, Vinyl
​Commercial: Airports, Amusement Parks, Cemeteries and headstones, Freeways, Hospitals, Hotels & Motels, Parks, Public Buildings, Schools, Stadiums, Zoos…
Skyhigh Roof and Gutter Cleaning will only use genuine Wet and Forget® products for all washing services.​
Wet and Forget® is non-caustic and non-acidic and contains NO bleach. It is safe to use on any exterior service.
skyHIGH Roof and Gutter Cleaning operate a specialist high reach gutter cleaning and a chemical soft wash roof and exterior cleaning service. We have based our operation at Clevedon, South East Auckland. From this location, we can provide a service as far North as the Auckland Harbour Bridge as well as covering the Northern Waikato and Coromandel.
why choose skyHIGH for chemical softwashing
Dave to supply content for this section
We guarantee our work. Let us know if you are not happy in anyway and we will fix it !
Our customers our service
We are not usually ones to blow our own trumpets, but we are clearly doing something right. Check out the positive reviews we are receiving on Google Reviews below.
amanda abdel-latif
2023-09-01
We had Dave do our Roof and gutters in preparation for selling. The job was outstanding and very professional. Dave is quick to respond and get the job done and turned up when he said he would. We would highly recommend him and his company to anyone.
Martha Meyer-Schlapp
2023-08-25
I couldn't be happier with the service, very professional, friendly, and explaining all the procedures so I could easily understand them. He did the gutter cleaning und sprayed the roof which ist two stories up.
I passed Dave when I was walking through Howick and noticed his van signage. He offered to drive down to survey my house to unblock the high guttering and submit a quote- which I later accepted. he has all the gear for the high work including Go pro camera- and does an excellent job.
Great service , would recommend them
Very happy to recommend this service. Vacuuming out the gutters is the best approach and Dave does it professionally, efficiently and courteously.
Sarah McCulloch
2023-02-22
Highly recommend Skyhigh Roof and Gutter Cleaning! Great communication and really helpful advice on how to improve our current water tank set up, we wouldn't have known we could fairly simply improve our water quality otherwise. Will definitely be using them in the future.
Would highly recommend Dave. Excellent communication and a very prompt thorough service. Will use again.
Katherine Cullen
2023-01-19
Came did quote and report.Then arranged time to do job.Was at Xmas so everyone was busy so arranged to do part job and rest in the new Year. Arranged time for 2nd visit and came and just did the job. No mucking around. Will be using Dave again